A driving range is a wonderful place for golfers to practice, for people wanting to start learning the game, where instructors can give lessons and for anyone to spend an hour or two in healthful recreation. It can be a profitable golf facility without the large land requirement and overhead of a full-sized golf course. But eventually most customers want to do more than just hit range balls off mats or even natural grass. They want to test their skill playing a course and recording a score.
The site for a range must be deep enough, say 300 yards (275 meters). Wide enough, 300 yards is also ideal and on land with no extreme contours. Up to 20 acres (8 hectares) is a good size. Some trees framing a range's 150-yard (137-meter) wide fairway helps golfers to aim. There should be buffer areas on both sides of a range's fairway so errant balls can be found and easily picked up. These and the tee line at the beginning of the fairway, a service building or clubhouse, one or two practice greens nearby and the parking lot are essentials for a nice driving range. And as implied above, a course that could be played would add greatly to the appeal of a facility. But how could a course be possible at a reasonable cost without additional land?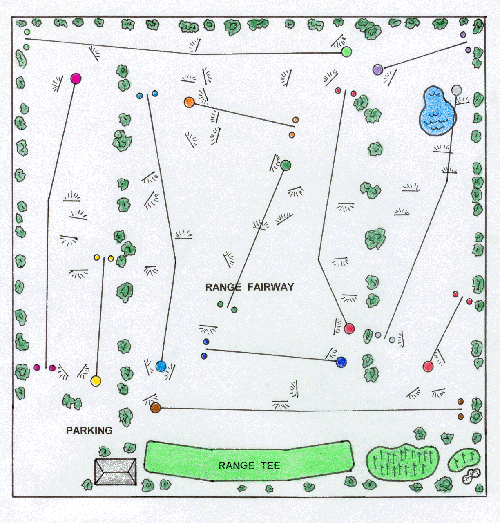 Shows a way a hybrid golf course could be laid out in combination with a driving range for using each during certain hours of each day.
Not only the range's fairway should be prepared and maintained similar to a golf course's fairways, but also the buffer areas on each side should be like that. A range's busiest times for customers are in late afternoons, evenings and after dark, if it is lighted. Golf courses are played more in mornings and early afternoons. So how about utilizing the same land in both of those ways during the times the demand is typically heaviest for each? That is as a course to play on all that grass maintained like a fairway in the mornings and until perhaps 3, 4 or 5 in the afternoons. Then as a driving range until closing. Naturally the balls would have to be picked up after the range closes, in order to be ready for play as a course the next morning. Retrieving the range balls then is a good idea anyway, so they don't remain out in the weather and could sometimes get stolen.
How in the world can a course take only approximately 20 acres? Here's how. The course will be played with the Cayman ball. This ball has satisfying flight characteristics without going nearly as far in distance or offline as a golf ball. Because of their lightness, errant Cayman balls are not likely to injure nearby people as would them being struck by heavier and faster-flying golf balls. To also allow more playing into less space only one club is used, a hybrid club. Combined with the Cayman ball, a hybrid club makes it easy even for a novice golfer to get their shots airborne and to perform acceptably.
Shows another hybrid golf course layout with this driving range.
Now for the rest of this concept that would give what might aptly be called a hybrid golf course. There are no conventionally constructed tees and greens. Tee markers are appropriately placed for hitting towards a target pole. These lengths could be from 45 meters (50 yards) to more than 190 meters (210 yards). Each pole would be a different color matched in color by its tee markers. Players aim at the pole, but more exactly for stopping their ball inside one of the two circles painted on the grass around each pole. When a player's ball stops in the larger circle, they add two stokes to their score and go on to the tee markers of another color. If from outside the larger circle a player stops his/her ball inside the smaller circle, they add only one stroke. Hazards could be nearly vertical walls in the direction of its pole. So if a player's ball stopped behind a wall, it would likely restrict their next shot being hit directly towards the pole and circles. Shallow water ponds could also act as hazards even though the Cayman ball floats. Players would start their round at any tee markers and after stopping their ball inside a circle could go to any other tee markers that were empty and they haven't yet played. Players keep going to new tee markers until they've play every color on the course. This is not a follow-the-leader procedure as on golf courses, where holes are numbered, which can result in frustrating waits when stuck behind a slower-playing group.
Since these courses don't have constructed tees and greens, from time to time the poles, circles and tee markers could be moved to new locations on the fairway-like grass. These changes would mean players then hit in new directions with different shot demands. A hybrid course could be combined with a commercial driving range or at the practice range of a regular golf course. When that course's range is not in use, the hybrid course should especially attract beginners, kids or any golfers wanting to play a quick round. Such a combined facility could also fit at a golf school/academy, university, school or institution of another kind, hotel, resort and anywhere else wanting to offer golf but lacking sufficient land, funds or demand for a full-sized course.
Shows a third possible hybrid golf course layout and driving range.
Such a facility is much more than a plain range. It double utilizes the land to give a course for a range's off-peak periods. For many hours players could have fun finessing a friendly ball around with an easy-to-hit club. Then later that same day anyone could enjoy busting golf balls great distances with a thin-walled and big-headed driver from the range's tee, plus also practicing their other clubs. Someone who has or wants a driving range and has a site of sufficient size could consider this crafty combination. Both functions would produce revenue for its operator.